The Established Standard in Performance & Aesthetics
Considered by the orthodontic industry as the well-established gold standard as a post-treatment retainer material for its exceptional crack resistance and stress retention properties, Zendura A is also still widely used as an aligner and a "finishing" aligner material. It is particularly helpful whenever a more rigid material is required.

Developed by a team of world class material scientists to meet the ever-changing needs of the orthodontic industry, Zendura is manufactured using proprietary processes to achieve the optimum balance of all the properties essential to providing a superior retainer and aligner material, including exceptional stress retention, crack resistance, clarity, and stain resistance.
Zendura A's Key Properties
Special Polymer Formulation
Zendura A is a monolayer material made from a proprietary medical grade polyurethane (TPU) resin, rather than the commodity polyester (PETG) or acrylic resins typically used by other orthodontic material suppliers.
Fast, Easy Fabrication
In-office fabrication of Zendura A orthodontic appliances using pressure or vacuum thermoformers is fast and reliable. You can produce a top-tier appliance in minutes and know every single time the appliance will have uniform thickness and quality and fit like a glove.
Stress Retention
Stress retention is the propensity of the material to resist deformation throughout each treatment phase. Rigid polyurethanes combine high strength and ductility with low stress relaxation and practical toughness and durability.
Ultra Clear
Zendura A material boasts excellent clarity and color stability that creates the impression of "crystal clarity" in the oral cavity.
Crack Resistance
Zendura A's special polymer backbone delivers significantly superior crack resistance … up to 2X more than competing materials.
Safe Material
Zendura is BPA, phthalate and gluten free, and is one of the safest commercially available materials.
Having a tough and durable polymer backbone, Zendura boasts a reputation as the benchmark for teeth retention and movement performance and crack resistance.

Zendura has been used in teeth retention applications for periods as long as three years.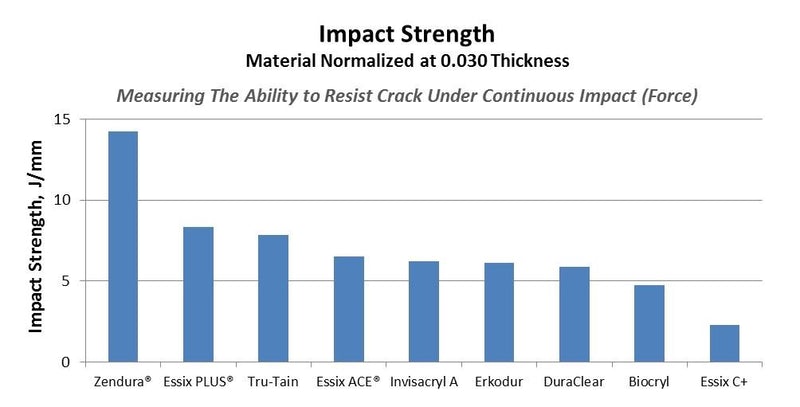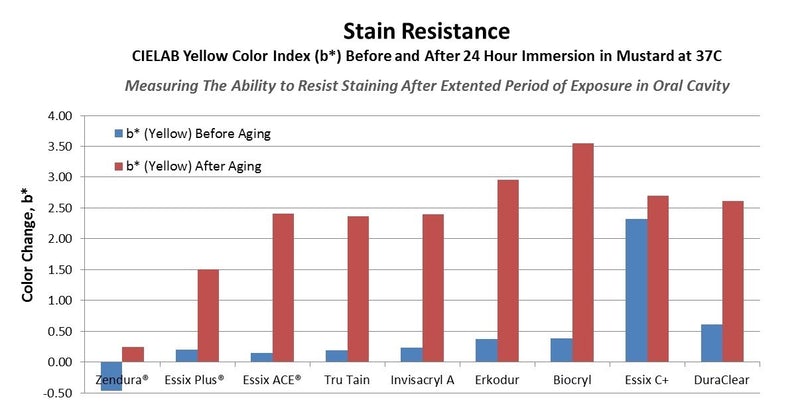 Exposure to food and drinks can cause plastics to yellow, stain, and structurally deteriorate. Zendura has demonstrated resistance to staining for applications extending for long periods of time in the oral cavity.
Impact Strength Test Method +
Impact Strenght was measured according to ASTM D 5420 (GC) Test Method, using a Gardner Impact Tester, equipped with 0.64 inch Die and 0.625 inch punch. Falling Weight impact, also known as Gardner Impact, is a traditional method for evaluating the impact strength or toughness of a plastic*. A weight is dropped from a measured height and the Impact Energy needed to cause failure via crack initiation and crack propagation is determined.

*Intertek Plastics Technology Laboratories
Stain Resistance test method +
The CIELAB Color model was utilized to measure a change in "yellow" (b*) that resulted from a 24 hour mustard soak. The color change was measure using a Byk-Gardner Color-guide and b* is plotted before and after aging.
Where you can benefit from Zendura A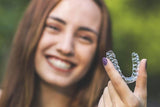 Clear Post-Treatment Retainer
Exceptional crack resistance, toughness, stain resistance, and lifetime clarity combine to make Zendura A a cost-efficient retainer solution for doctors and their patients. Because a retainer made of Zendura A fits so well and won't break, it protects your patients' investment and increases their overall treatment experience and satisfaction.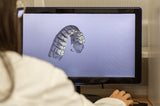 Temporary Bridge
The same properties that make Zendura A ideal for retainers and aligners make it applicable for temporary bridges (with or without a pontic).

The most common problem with temporary bridges is breakage due to localized forces and wear. It is not uncommon for a dental lab to make two temporary bridges at the same time due to "expected breakage." But bridges made from Zendura will not break!